Trash Maintenance Made Easy!
Heavy-Duty blow-molded waste receptacles made from long-lasting polyethylene are designed for high-volume heavy use and manufactured to withstand the harshest environments. In addition, the interior and exterior of the 30 Gallon Hex can be easily cleaned with a standard degreaser.
Dimensions: 29"H x 20W x 17-1/4"D
These models made from post consumer recycled (PCR) material, upto 50% PCR content. All models are shipped in a carton made from 50% recycled content.
Recycled Content
50% Post Consumer Recycled Plastic. (Color Black)
25% Post Consumer Recycled Plastic. (Color SG-Beige & Gray)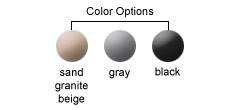 Matching Products