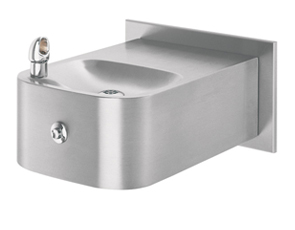 Model 1109FR
(Shown with Back Panel Model BP3)
All-Year-Round Use Drinking Fountain
Model 1109FR is a Freeze Resistant, wall mounted, barrier-free satin finish stainless steel drinking fountain that includes a push button operated pneumatic valve system, polished chrome-plated brass bubbler head and waste strainer, and vandal-resistant bottom plate. It features a one-piece stamping with a rounded bowl designed for durability and easy maintenance. This fountain features a specially designed pneumatic operated Freeze Resistant valve system. Fountain valve is installed behind the wall and is to be located in a heated space that maintains a minimum of 50°F temperature to prevent freezing of mechanism.
Features
Well Constructed Sturdy Fountain - 18 Gauge Type 304 Stainless Steel Design.
Maintenance is Made Easy - Front access to valve adjustment and cartridge replacement.
Resists Stains & Corrosion - Beautiful satin stainless steel finish.
Soft Rounded Corners - Prevent mishaps and other accidents that may occur once the fountain is installed.
One-Piece Stamped Bowl - Durable yet aesthetically pleasing design.