Indoor Bicycle Storage and Theft Protection Rack
Vertical bicycle storage racks provide space saving bicycle storage. The bicycle racks feature an extended loop that acts as a convenient point to easily secure both the bicycle wheel and frame with a single U-Lock. Designed for simple and easy installation, it is well suited to be mounted in the garage, basement, storage area or anywhere bicycle storage is needed. Available in both wall mount and free standing models (wall mount racks pictured below). Free standing models have four wall mount bicycle racks secured to a free standing rack.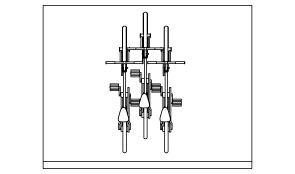 The vertical wall mount bicycle rack is a popular choice for apartment/residential usage as multiple racks can be mounted in an alternating staggered pattern for maximum bicycle storage. The vertical free standing racks hold 4 bicycles each and can be placed in rows for more bicycle storage space when a mounting wall is not available.
The hot dip galvanizing process results in an effective corrosion resistant surface with multi-varied spangle appearance.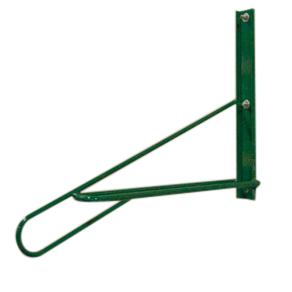 Model BSV-1-WM-P
(Wall Mount)
The vertical bicycle rack is 28" deep, 3-1/4"Wide, and 28"High. The rack is constructed of 1/2" O.D. and 5/8" O.D. steel bars. Available finishes include a galvanized finish or powder-coated color options displayed below.
Matching Products