A New Level of Performance & Protection
This unique StreetSmart™ outdoor drinking fountain is the perfect addition to parks, rest areas, and correctional facilities where vandalism may be more prone to take place. By welding the bowls directly to the upright, they become one with the unit, preventing removal. In addition to many other vandal-resistance features, makes this drinking fountain virtually indestructible.
The model 3500 drinking fountain may also be applicable in a wide assortment of other places not mentioned due to its great appeal through its vandal proof and wheelchair accessible design.
Features
Barrier-Free capabilities combined with its ease of use allows for a number of installation location possibilities.
Drain Clean-Out Top-down access to the drain allows the fountain to be cleaned without taking the unit apart.
Push Button patented (Pat.# 6,981,692) push-button valve assembly which allows for front access stream adjustment as well as cartridge and strainer access.
Bubbler Head Polished chrome-plated brass bubbler head features an integral basin shank for added strength, and is equipped with a shielded, anti-squirt orifice.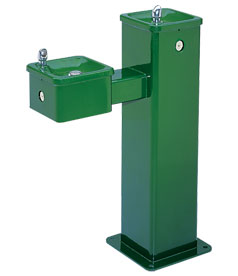 Model 3500 | Dual Level
Square Pedestal | Drinking Fountain
Specifications
Model 3500 is a StreetSmart™ "Hi-Lo" vandal-resistant barrier-free pedestal drinking fountain with green powder-coated finish.
Pedestal, access door and arm are constructed of corrosion-resistant Type 304 all welded heavy-duty stainless steel.
Bowls are integral 3/8" cast stainless steel, which prevents removal.
Recessed chrome-plated push buttons operate front adjustable automatic diaphragm pressure regulated valves.
Bubblers are chrome-plated low profile forged brass with 3/8" NPS mounting shank with vandal proof locking pins to prevent turning.
Waste strainers are designed to allow insertion of a garden hose for top down unobstructed access for waste clean out.
Large access door (6" x 22") with heavy-duty hinges and 5/16" square key locks.
All exposed fasteners are pinned socket type.