Vibra-Cast Reinforced Round Concrete Pedestal Drinking Fountains
These models are Freeze Resistant, vandal-resistant, circular, vibracast reinforced concrete pedestal drinking fountains that can be used year-round where temperatures may drop below freezing. Model includes a hood extension to protect the polished chrome-plated bubbler head and push button pneumatic activated Freeze Resistant valve system. The circular pedestal design allows the water fountain to be placed conveniently in various locations, without taking up too much space.
Bubbler head, push button, and waste strainer are all polished chrome plated and vandal resistant. The easy to use push button requires less than 5 lbs. to activate, making these drinking fountains simple to drink from. Choose from a wide range of custom cement color options and finishes to match these drinking fountains to any environment. For a closer look at the custom colors and finishes, please click on the color options shown below.
Freeze Resistant Valves
Model 6518FR
is a fully engineered system with pneumatic operated
freeze resistant
bury valve installed below frost line, with check valve to drain water from unit when not in use and to prevent back-flow cross contamination.
Matching Products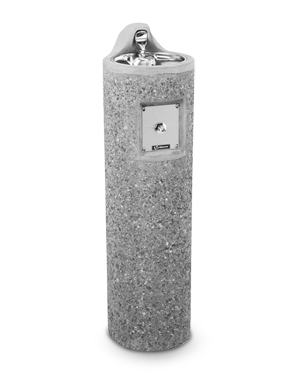 Model 3060FR
Legacy Model Number '3060FR', '3060FR-CC', '3060FR-CF', & '3060FR-CCF'
Now Requires the 3060FR, 3060FR-CC, 3060FR-CF or 3060FR-CCF and one of Valve Systems (Model 6518FR) Listed Below (Sold Separately) for a Complete Unit.
Haws manufactures all drinking fountains to be lead-free by all known definitions including ANSI/NSF Standard 61, Section 9, California Proposition 65 and the Federal Safe Drinking Water Act.